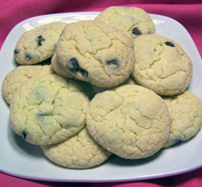 Cake mixes make the best cookies!  These soft cookies have wonderful flavor of vanilla and chocolate.  Place left overs in air tight container.  The best thing about these cookies is that they are very easy to make and budget friendly.
1 Vanilla Cake Mix
1/3 cup canola or vegetable oil
2 Large eggs – slightly beaten
1 Tablespoon water
1 whole vanilla bean
1/2 cup mini chocolate chips
Sugar
Place first 4 ingredients in mixing bowl.  Slice vanilla bean down the center and scrap out seeds and add to mixture.  Mix until just blended.  Fold in chocolate chips.  Roll dough into 2 inch balls and roll in sugar.  Bake on lightly greased baking sheet in 350 degree oven for 10 minutes or until lightly browned.  Remove from oven.  Using a spatula transfer cookies to cooling rack and cool completely.
~Marsha Bradford