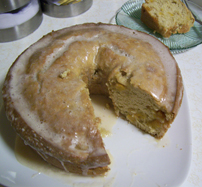 Peaches are a prominent part of the south.  This Peach Cake is moist and delicious.  I used frozen sliced peaches and the flavor was incredible!
1 package sliced frozen peaches (thawed)
2/3 cup sugar
3 cups all purpose flour
1 teaspoon salt
1 teaspoon soda
2 cups sugar
1 teaspoon cinnamon
1/4 teaspoon nutmeg
1 cup sour cream
1 teaspoon vanilla
butter (melted)
2 Tablespoons milk
Chop peaches into bite sized pieces. In a medium saucepan combine peaches and 2/3 cup sugar.  Cook over medium heat for 10 minutes until peaches are hot and syrup has thickened slightly.   Remove from heat and drain peaches (make sure you reserve this peach flavored syrup for the cake's glaze).  Set peaches and syrup aside to cool.
In a large bowl combine flour, salt, soda, sugar, cinnamon, and nutmeg.  In a mixing bowl beat eggs, add sour cream, vanilla, melted butter and milk and  stir until combined.  Make a well in the dry ingredients and add egg mixture and stir until ingredients are incorporated.  Fold in peaches.  Pour batter into a greased and floured bunt pan and bake for 1 hour at 350 degrees or until pick poked in the center of cake comes out clean.
Glaze: Combine peach syrup with enough confectioner's sugar to make a thin glaze.  Drizzle over top of warm cake.
~Marsha Bradford