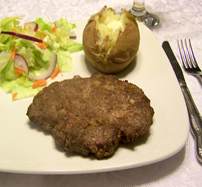 This recipe is a staple in our house and the whole family loves it.  Simple, quick, and delicious is really hard to beat.  It helps that this is a main course that is easy on your wallet too.
2 pounds lean ground beef (i use ground chuck or sirloin)
1 onion (chopped)
1 egg
1/2 cup plain bread crumbs (home made is best)
1 Tablespoon Worcestershire sauce
1/2 teaspoon salt
1/2 teaspoon pepper
Place meat in a large bowl.  Chop onion and add to meat.  Add remaining ingredients.  The only way to mix this is to take off your rings and dive right in!  Mash and mix it until ingredients are just combined.  Do not mix too long or steaks will be tough.  Shape mixture into patties and place on broiler pan. Bake in oven on 350 degrees for 15 minutes.  Turn oven to broil and finish cooking (watching them closely) until desired level of cooking has been achieved.  I like mine cooked well.  Serve with additional Worcestershire sauce or your favorite sauce.  Gravy makes a nice accompaniment too.
~Marsha Bradford